Dear friends, we are pleased to annouce that His Eminence Namkha Drimed Rinpoche will bestow the Vajrakilaya Empowerment on 30 August 2018 from 6.00 pm to 7.30 pm at Palyul Center UK.
Suggested donation is 15 GBP.
The great Terton Namkha Drimed Rabjam Rinpoche, pillar of teachings from the earlier translations, fourth generation of the Ripa family lineage, master of profound mind treasures and the lord of refuge was born with amazing signs on the tenth day of the first month of the Tibetan calendar. He was born in 1939 in Rigon Tashi Choeling, belonging to the upper part of Tsawagang in the south of the great land of Tibet. Phagchok Rinpoche recognized him as the incarnation of the great Terton Yoeunge Mingyur Dorje and gave him the name Namkha Drimed Rabjam. From a very young age, he remembered clearly his previous lives, including the time in Ling, where he was Bumpa Gyatsa Zhalkar, the elder brother of Gesar.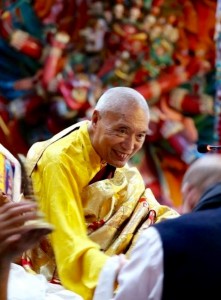 He received the vast and profound ripening and liberating nectar of teachings from many great masters. They were holders of teachings from the school of translation, primarily Nyakrong Terton Jigme Choeujung Lingpa, the Yogi of the Dzogpachenpo of clear light and his father, Jigme Tsewang Chogdrub, as well as the pillars of teachings of the early translations, the lords of refuge H.H. Dudjom Rinpoche and Dilgo Khyentse Rinpoche.
His Eminence met on many occasions the three roots deities and protectors and their emanated retinues and received many prophecies and transmissions, including the single embodiment of the lords of the three families, Gesar Norbu Dradul. As the vast and profound mind treasure teachings were spontaneously revealed to him, especially the liberator Wrathful Gesar, he began to write and record the various teachings of the time. He also established two new monasteries, Rigon Thubten Mindrolling in Orissa, India, as well as Rigon Tashi Choeling in Pharping, Nepal.
for more information please visit: https://www.ripaladrang.org
__________________________________________________________